Being an accommodation provider isn't easy. Aside from continuously encouraging guests to book directly on your website, getting them to notice your business among thousands of others is a huge struggle. To augment sales, many hoteliers rely on online travel agencies (OTAs) to sell their room inventories in exchange for soaring commission fees.
To help you drive online bookings more efficiently, we've integrated with DirectWithHotels, a solutions provider that helps accommodation businesses to boost reservations and maximize gross profit through the use of digital marketing best practices and the latest hotel booking technology. This integration will enable DirectWithHotels' clients to readily process online payments around the clock using PesoPay within the booking engine interface.
Online Reservations Made Easy
With DirectWithHotels, hotels and resorts alike achieve greater ROI. DirectWithHotels accomplishes this by providing accommodation businesses with a booking engine combined with tactical online marketing to drive traffic and convert visitors into bookers.

To get started, you'll only need to add a few line of codes on your website to utilize the booking widget. Once integrated, guests can now make direct reservations 24/7 using the interface in as easy as three steps. Visitors may begin the booking process by simply clicking on the "Reserve Now" button. A calendar will then load shortly where guests can view in real-time the availability of rooms in their preferred check-in and check-out dates along with different rate plans that best fit their budget. After making their choice, guests can then proceed to the checkout page where they can complete the transaction by making a payment using PesoPay.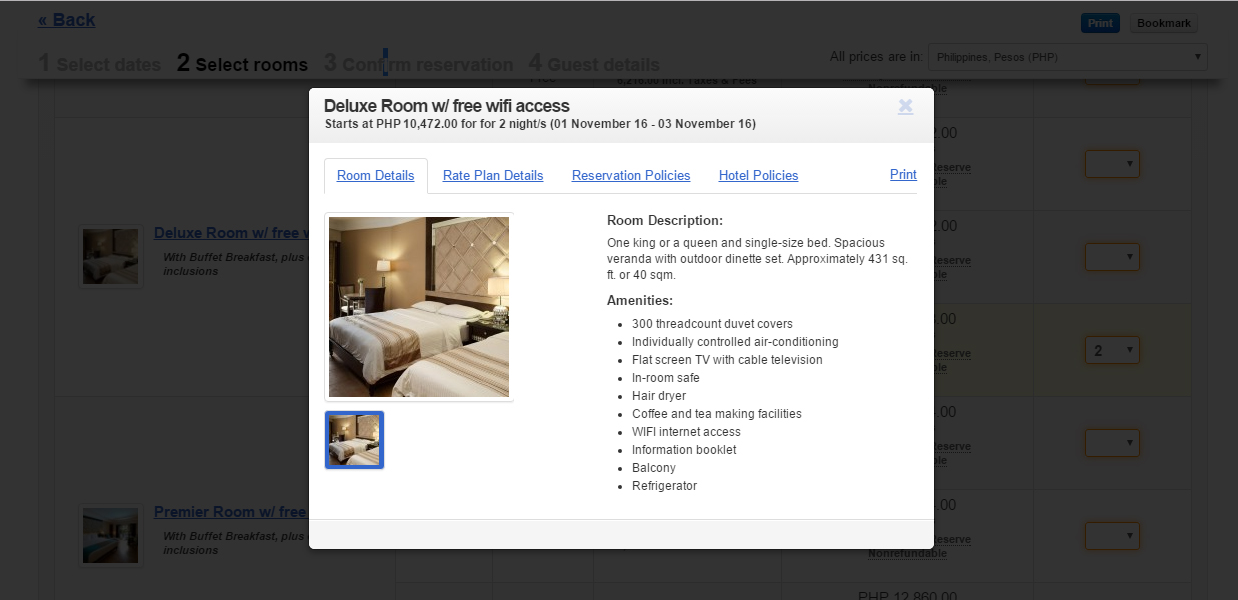 The booking widget also allows you to post additional room information like amenities, freebies and on-going promotions to increase conversions. Best of all, you can even customize the look and feel of the booking interface to match your brand. Other notable features include the Hotel Extranet which allows you to manage rates, room availability and reservations in one place.
What really makes DirectWithHotels amazing is that they'll support you with Google-centric marketing, empowering your website to attract qualified traffic, develop compelling content, manage online reputation and track performance. And that's not all, DirectWithHotels also provides you with a Gross Profit Coach who will help develop your channel strategy and brand building activities.
Since 2005, DirectWithHotels has worked with thousands of hotel partners in over 50 countries worldwide to increase their bookings online. In the Philippines, their client base includes popular accommodations like the Boracay Regency Hotel, Bohol Beach Club and Microtel Inn & Suites. What are you waiting for? Connect better with guests and encourage more direct bookings with DirectWithHotels today.