As a small business, managing your website, updating content, and marketing while on the move can be quite a challenge when you don't have the right tools in place. To help you out, we've integrated with Boomer, an all-in-one marketing platform that gives you full control over your business wherever you go.
This integration will enable Boomer users to facilitate online payments on their websites through PesoPay, making it significantly easier for them to maximize conversions and get paid by providing local payment options to any customer.
A Mobile App for Marketing On-The-Go
The Boomer Marketing application allows business owners to easily build, manage & market their websites directly from any mobile device. It is a product of BrandPier Inc., a company headquartered in Indonesia that aims to bridge the gap between small businesses and internet giants by delivering smart, affordable and easy-to-use solutions for SMEs.
Built to Scale Your Business
Whether you're a local merchant looking to extend your reach, or a new one planning to start an online business, the Boomer Marketing app comes packed with features to get your business off the ground.
The site creator app offers a wide selection of fully-responsive templates, allowing you to build your own website as easy as playing a game.You can also customize almost every element on your site – add a logo, upload cover photos, change themes, select a primary color, alter font styles and more without writing a single code.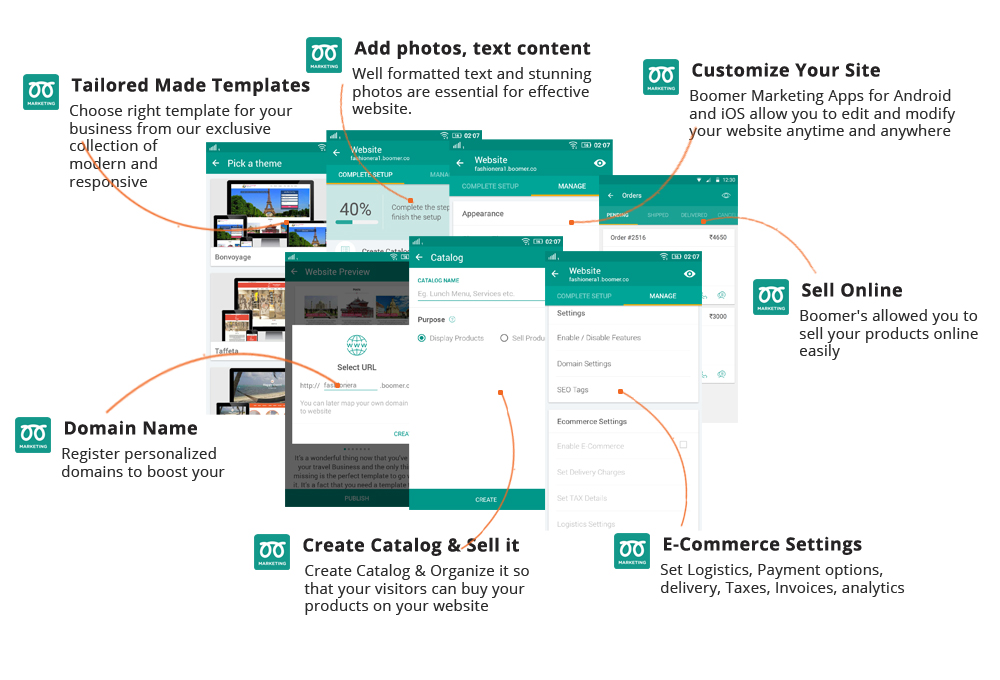 With the Boomer Live Chat plugin, customers can easily reach you through your app, on your website and even in your Facebook page. What's really cool is that merchants (Elite & Guru plan subscribers) can take calls directly from customers. Now that's convenient!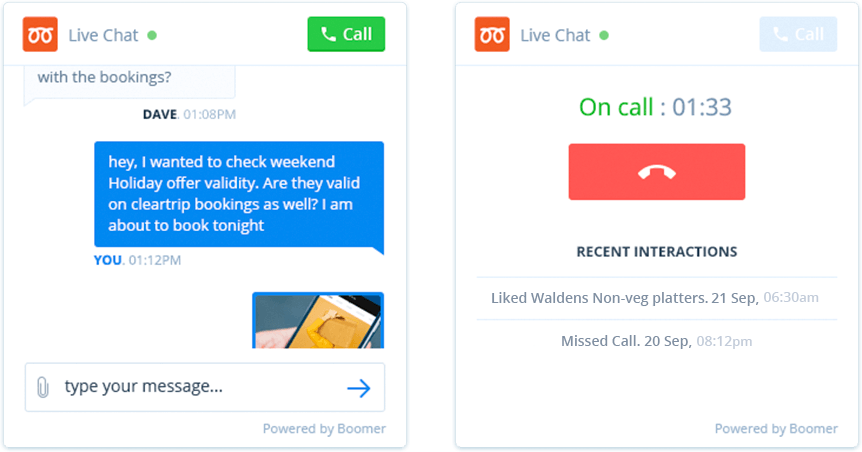 Keep your content fresh across your website and social media channels by simply connecting your profiles directly through the app interface. You'll only need to publish an update once – new arrivals, events, or offers and Boomer does the rest. Your customers will have access to up-to-minute updates wherever they may be.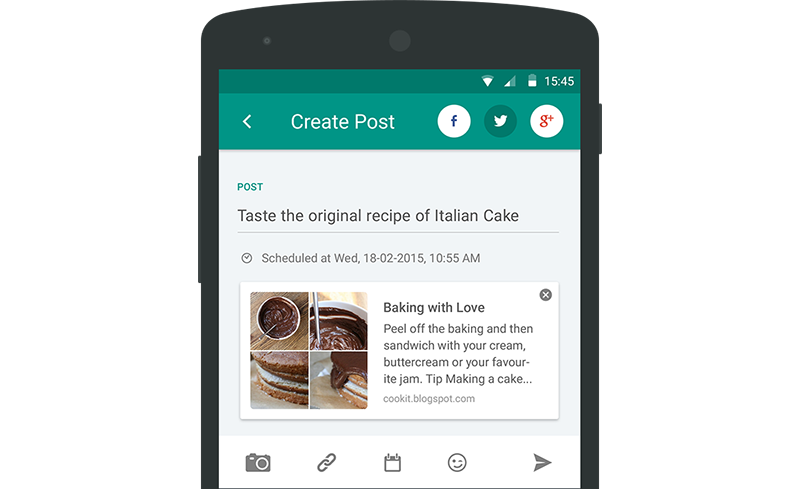 The list of things you can do with the Boomer Marketing app is possibly endless as it continues to integrate with other solutions like logistics, SMS notifications, search engine optimization (SEO), email providers and more to help you manage your complete online presence & marketing in a single platform.
Setting up PesoPay for Boomer
Just follow the steps below and you'll be ready to accept payments in no time:
1. From the Boomer home screen, go to the "INTEGRATIONS" tab and select "Connect Account"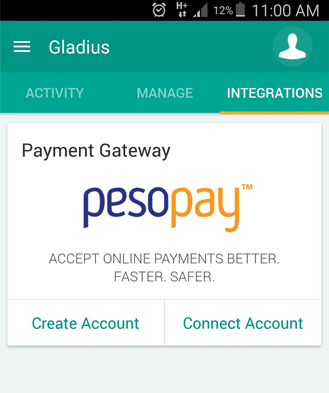 2. Enter your Merchant ID and Secure Hash, then click "Submit"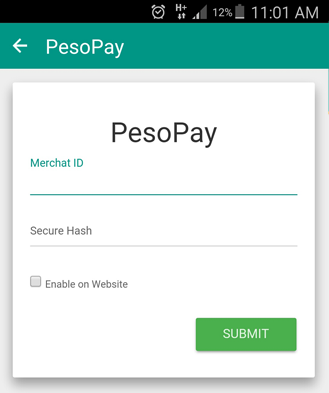 3. Don't have a merchant account yet? No problem. Select "Create Account" on the "INTEGRATIONS" tab and fill out the form. A PesoPay representative shall immediately assist you.
Exclusive Offer:
As a special treat from Boomer, you can use this coupon code – "PESOPAY-WB" to get a 15-day free trial of the Elite plan. You'll get unlimited live chats, premium web templates, 1GB of storage, 2GB of monthly bandwidth, 60 minutes per month of Boomer calls, and 1 additional manager for your website.
Want more of those premium features? Well you're in luck! If you sign up with PesoPay, submit all required documents and pay $70 for the Boomer Elite plan before the expiration of the 15-day trial promo code, we'll upgrade your account into the Guru plan for one year.
In addition to previously mentioned Elite features, you'll have 300 minutes per month of Boomer calls, unlimited managers, and 2 full services (payment gateway and logistics) free of charge. That's worth a total of $440 but you can get it for only $70!
What are you waiting for? These offers are valid until October 31 only. Get the Boomer Marketing app on Android or iOS today! Download at http://onelink.to/pesopay.